Read Time:
10 Minute, 8 Second
It's no secret that I am skincare obsessed. My mom put me on a cleanse, tone, and moisturize routine at 14, and I've been committed to optimizing my skin health ever since. (These are the products I use!) From years of skincare deep-diving, I've become intrigued with finding the best microcurrent device. These are tools that work by delivering an electrical current to skin cells to lift and tighten in all the right places. I love nothing more than going down the research rabbit hole to decipher what ingredients, products, and tools actually work. So, landing on the best microcurrent device seemed like the best opportunity to do exactly that.
Featured image by Hannah Haston.
Testing the Best Microcurrent Device
I'm a huge fan of microcurrent during my in-clinic facials. (If you live in LA, go see Matthew Miller for The Lift facial or Camille Fields for her remodeling face treatment.) But I wanted to find a way to extend the benefits of those treatments at home. With so much information (and misinformation) online, I decided to collaborate with my fellow skin aficionado, Camille, to test and review six of the top brands in a bid to find the best microcurrent device to use at home.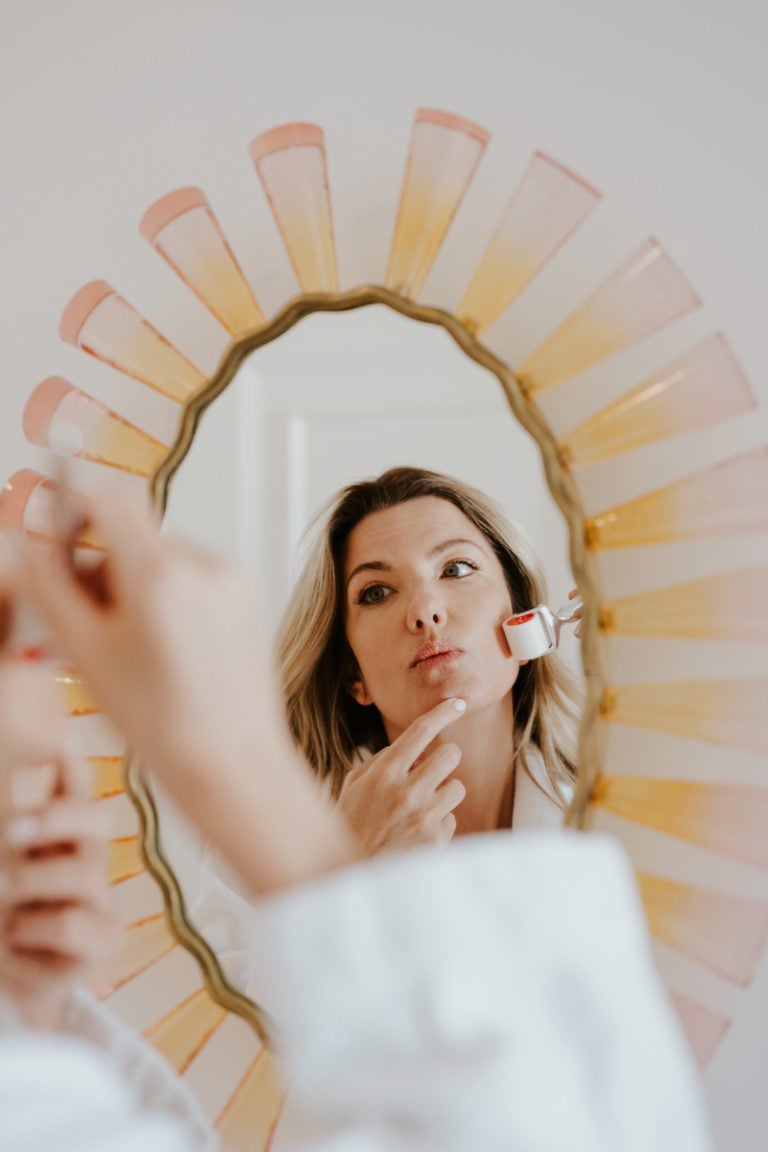 What is microcurrent?
Microcurrent is a non-invasive facelift using a low-level current of electricity to stimulate the facial muscles like a "workout" for the face. It has been clinically tested as a safe and efficacious treatment both in-clinic and at home to encourage definition, collagen development, and growth of ATP. (Adenosine triphosphate, an energy-carrying molecule found in the cells of all living things.)
The Benefits of Microcurrent
The benefits of microcurrent are instant, but just like exercise, the best results are cumulative. About five minutes a day, 2-3 times a week will help encourage the muscles to stimulate collagen growth. Experts recommend using an at-home microcurrent device in between professional appointments for maintaining the best results.
So, if you're looking to give yourself the best microcurrent facial at home, keep reading for our honest thoughts.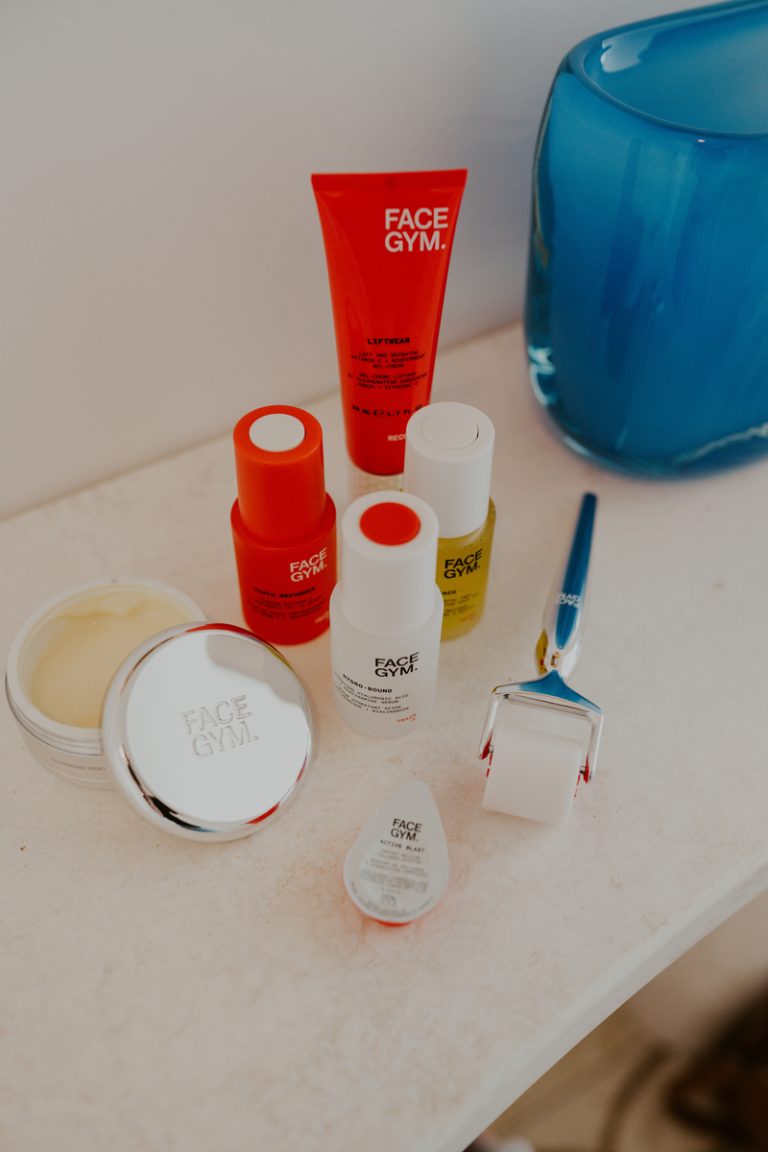 Every product is curated with care by our editors and we'll always give an honest opinion, whether gifted or purchased ourselves. If you buy something through our links, we may earn a small commission at no cost to you.
In the same way that exercise is good for your body's health, it's also beneficial for your skin's health. Also known as "fitness for your face," the NuFace Trinity sculpts, tightens, and contours the face to improve skin texture and tone and to help reduce the appearance of wrinkles and sagging skin. 
Why I Recommend It:
The beauty of microcurrent is the instant results. After just five minutes, you can see a visible difference—skin is lifted, tighter, and brighter and glowier overall. I love to use my NuFace right before I have a special event or gathering because my skin just beams afterward. It's also the perfect primer for your skin before applying makeup. And it's completely painless. You will feel a stronger pulsation on your neck where the skin is thinner or sometimes around your teeth. If this happens, reduce the settings on the NuFace. I set it to the highest for the cheeks, temples, and forehead and down to one or two around my mouth, eyes, and nose area.
Pros:
Instant results in a short amount of time. You can physically see and feel how healthy, bright, and tight your skin feels after using this tool.
It's also one of the more affordable microcurrent brands, so it's a good entry point for those looking to start.
Cons:
The best results are cumulative, meaning you have to use this often to experience long-term collagen growth and facial sculpting. So, if you're disciplined and willing to put in the daily work, this is the tool for you.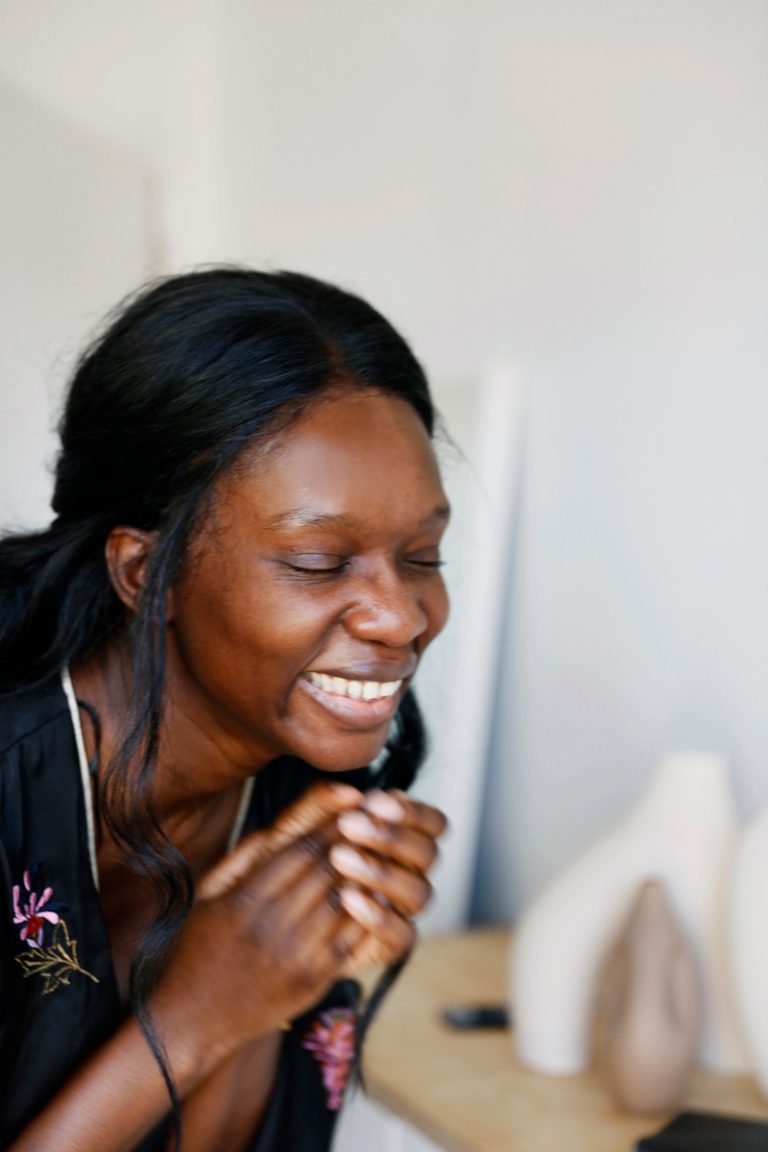 The main difference between this device and other microcurrents on the market is the shape, frequency, and strength of the electrical currents. ZIIP uses different waveform shapes, from soft S-shaped waves to hard-edged building block squares, to produce the optimal outcome for your skin. But it's also the frequency at which they use them. The device stimulates muscles by switching from lower frequencies to higher frequencies, increasing circulation, plumping, and everything in between.
Why I Recommend It
ZIIP founder and CEO Melanie Simon was coined the "Nikola Tesla of facials" by Forbes. She spent 15 years as an aesthetician specializing in electrical facial treatments (with celebrity clients like Mandy Moore, Sarah Paulson, and Eva Mendes) before she created her multi-million dollar beauty empire.
ZIIP is the only device that offers both nano and microcurrent waves. Nano-current results are long-lasting, while microcurrent offers immediate lifting and sculpting results. This powerful combination creates change on a cellular level. The electrical currents are designed to be both direct and alternating, which flows back and forth to increase ATP, providing "usable energy to skin cells, giving long-lasting results." Use is 1-3 times a week for maximum results.
I like to ZIIP on the weekends when I have more time and can invest in a longer treatment because the payoff is huge! The ZIIP gel is $50 a bottle but you get one when you buy the device and you don't need a lot. As a result, it lasts forever—at least six months if you use it often or longer if you only use it periodically. I have been using my ZIIP for years now and I truly believe in this product.
Pros:
The ergonomic shape of this device is a huge pro for me.
I love that the app also comes with so many different facial treatments that Simon personally takes you through. (Energize is my favorite for a quick lift.)
Cons:
If I had to pick one con, it would be the app. It can feel like an extra step to set that part up first, which is silly because it takes seconds for you to sync the treatment from the app to your device. But sometimes, it is a barrier to entry for me.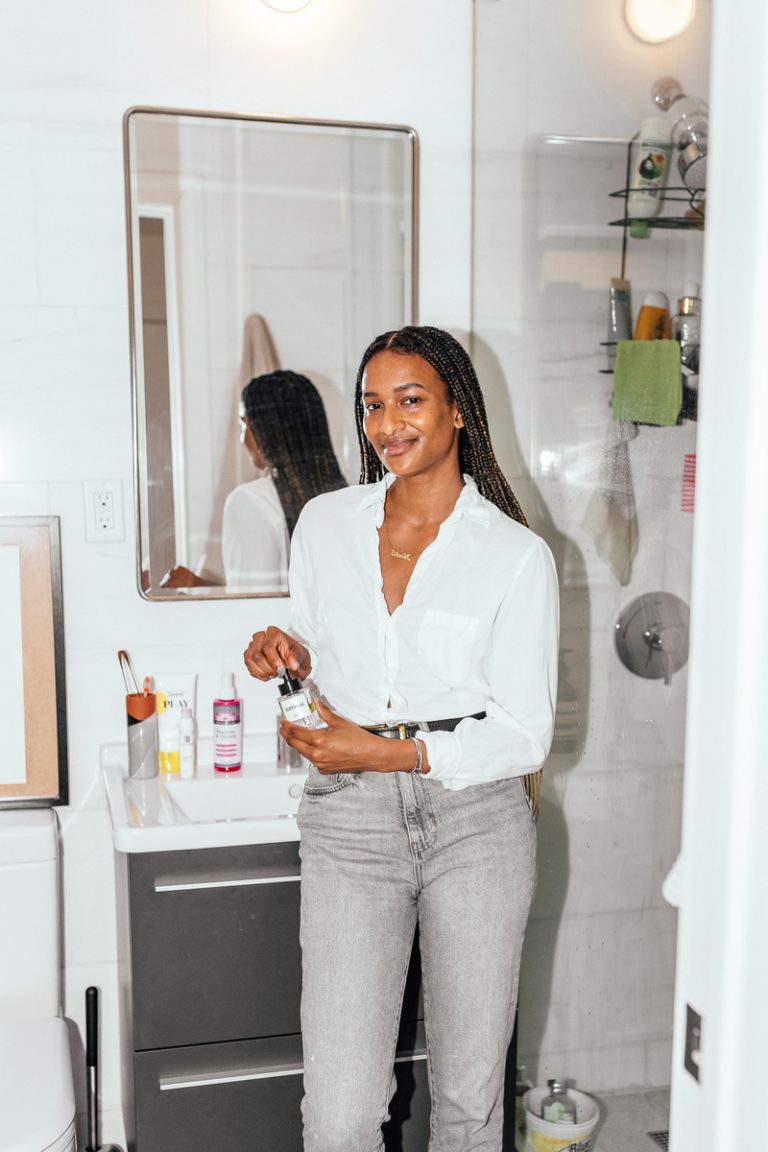 If you've ever had a workout at FaceGym then it's very likely you've experienced the PureLift in action. Now you can bring their famous Clean + Lift signature treatment home. PureLift's patented three-wave stimulation uses knuckling motions via the diamond-faceted probes to go deep into your facial muscles. These probes perform EMS (electrical muscle stimulation) all over your face which are mild but powerful currents that strengthen your muscle fibers. That means toning, circulation-boosting, and skin firmness in just 10 minutes. 
Why I Recommend It
This tool gets the job done! It's an incredibly powerful microcurrent device that uses high-and-low frequency impulses to activate, lift, and strengthen the facial muscles. I have used a lot of microcurrent devices on the market and this is definitely one of the strongest.
Pros
The fact that it is one of the strongest I've used is both the pro and con of this device. I love how deeply it penetrates, but you definitely feel it. It's not painful at all, but it does wake you up!
Cons
My best advice with this at-home microcurrent tool is to start slowly to avoid any type of pinching pain. It has several settings, so I recommend using the lowest first and working your way up as you get used to it. I have been using this tool for about a month now, and I am still on the lower 1-2 settings.
Since fine lines around my eyes are my main focus when it comes to anti-aging, I was immediately intrigued when I heard about the FIX Line Smoothing Device from NuFACE. Here's how it works: You apply the included FIX Serum around areas of focus, then move the device using the signature 'feathering' technique: a quick erasing motion. The result is a smoother, tighter appearance around the eyes, mouth, forehead, and nasolabial folds that's immediate, with increased improvement over time. — Camille
Why I Recommend It
The FIX is the 1st FDA-cleared pen-size microcurrent device for cosmetic use. It's rechargeable, so you can truly take it on the go. It works by delivering bursts of gentle microcurrent energy that help plump, smooth, and tighten the skin in small targeted areas.
Pros
The biggest pro for me? It's fast! Unlike many of the other microcurrent devices on the market, the FIX targets the appearance of fine lines around the eyes, lips, and forehead within three minutes.
Cons
The main con would be that it's small, so it's made to treat small areas. Its current isn't as strong as the Trinity, so if you're wanting to treat the full face, this is probably not the device for you.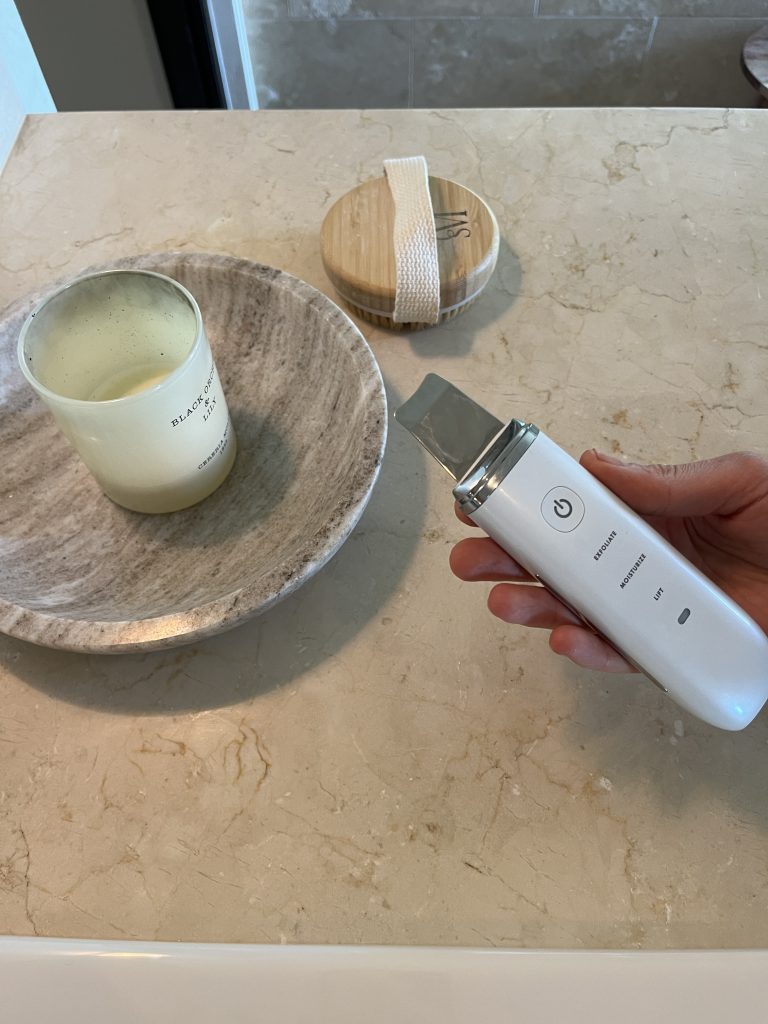 What It Does: This device is like gua sha on steroids. The metal head is shaped to lift and contour to your facial structure as you power up and go over it with microcurrent. The crazy thing about the Essia Wand is that it does so many different things. There are three separate modes: Exfoliate, Moisturize and Lift. Usually, I focus on the Lift mode, which uses electrical muscle stimulation (EMS) to stimulate facial muscles, tighten skin, lift facial contours and reduce the appearance of fine lines and wrinkles. — Camille
Why I Recommend It
This device uses high-frequency, ultrasonic technology and EMS to penetrate the skin by 3-5 mm. The ultrasonic vibrations from the Exfoliate setting work to dislodge blackheads and other impurities from pores, helping fight off rogue breakouts and inflammation. And the Moisturize mode combines ultrasonic oscillation with an anion (a negatively charged ion) flow to help skin attract and absorb your hardworking skincare products more deeply.
Pros
I love this tool for how easy and effective it is. The Lift mode has the same relaxing feel as gua sha or facial massage, but its effectiveness is truly pumped up thanks to the ultrasonic and electrical muscle stimulation. The Exfoliation mode is a spa-level exfoliation treatment at home, gently "scraping" skin to remove dead layers, patchy skin, blackheads, and clogged pores.
Cons
The only real con for me is that to make the most of this device, you need to use all three modes regularly. It's a commitment that I don't always have time for.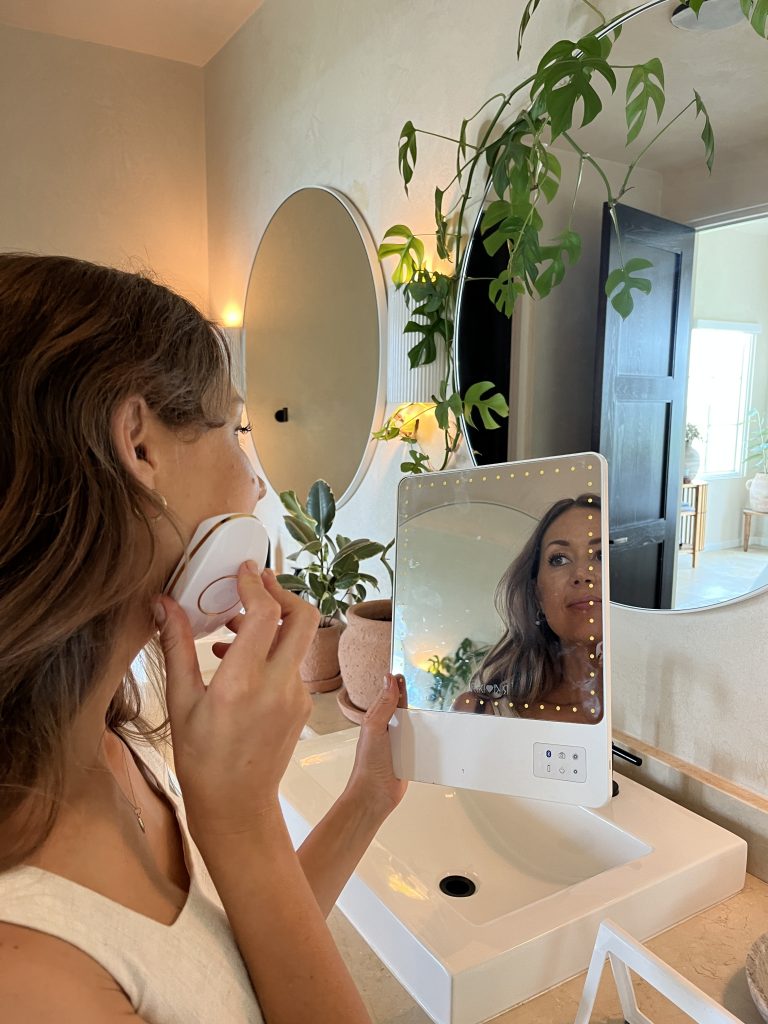 Much like the Trinity for your face, the NuBODY at-home microcurrent tool is a toning device that visibly helps to firm the skin and appearance of dimples on your body. The microcurrent technology is specially designed with four treatment spheres for a stronger, more targeted delivery of the microcurrent to larger, denser areas like the thigh and butt. — Camille
Why I Recommend It
I wanted to specifically target some stubborn cellulite on my thighs and to tone the skin at the top of my knees where the skin is starting to sag. I definitely notice a difference after using it—skin is smoother, tighter, and firmer. I use it at night to help treat fluid retention and it seems to help with that, but my cellulite also feels more visible at night after sitting down all day for work.
Pros
This is another tool that shows visible results after one use!
Cons
But… this product is definitely best when used over time. Yes, it works and you can see the difference but it does take time and commitment with regular use. So, if you commit to the time, you'll be pleased with the results.
This post was originally published on May 9th, 2022, and has since been updated.