Read Time:
7 Minute, 13 Second

Mansoorudin Faridi/New Delhi

Yogi Haider, the founder of Yoga Pakistan and Way of Nature is credited with popularizing this ancient science of keeping the body and mind healthy through Yoga practices and meditation, in his country. He has spoken of his dream of emulating Baba Ramdev to create a health awareness revolution in Pakistan through Yoga.

Though he tones down the Indian origin of yoga and understandably so in a Muslim country he says, "Yoga has no religion, neither Hindu nor Muslim. It is our common heritage, an art, and a science. This is the property of the East. We should be proud that this is our property, which was discovered by our forefathers, the simple recipe for physical, spiritual, and mental health that the world is enjoying today."

Shamshad Haider, the real name of Yogi Haider, is born in the Punjab province of Pakistan. He has been training people in Yoga in his country since 2005. 

Speaking with Awaz-The Voice from Rawalpindi over the telephone, Yogi Haiderd said, "I would tell Muslims that Yoga is only an art, a science, a gift to the universe, a cure for every disease without medicine."

Yogi Haider's organizations Yoga Pakistan and Way of Nature have connected thousands of Pakistanis with yoga and played an important role in bringing thousands of Pakistanis out of their homes and into parks and open spaces to practice it.

Yogi Haider addressed the mindset of many Muslims across India and Pakistan who believe that Yoga is part of the Hindu religion or its mudras and asanas are part of Hindu rituals.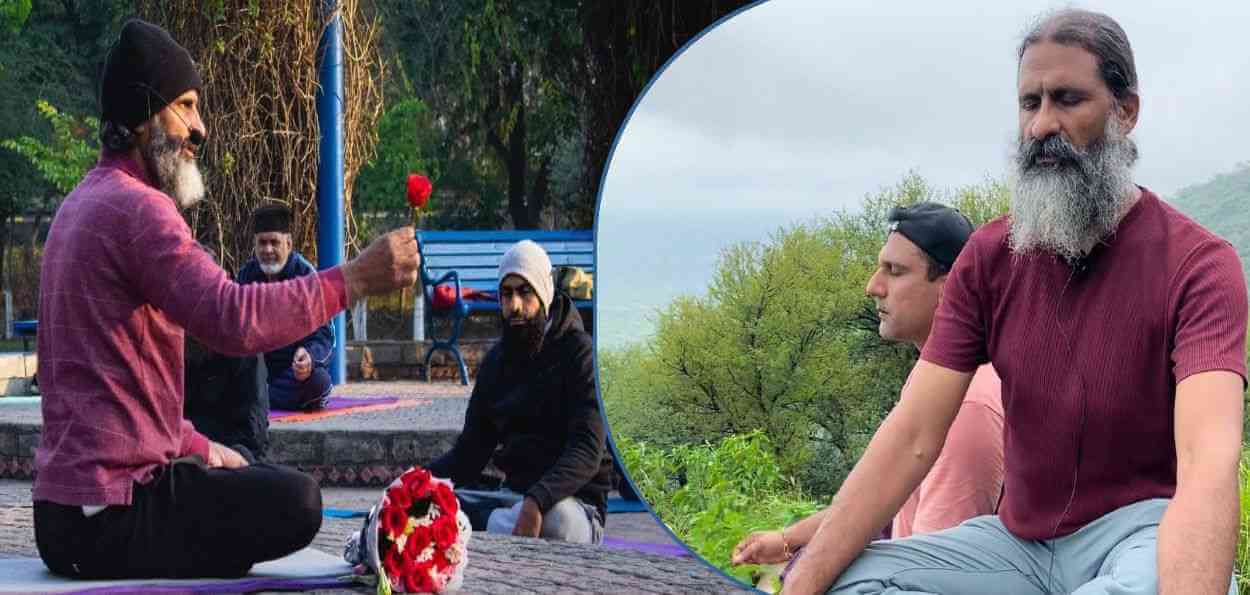 Yogi Haider at a Yoga session



To them, he said prayer is done with niyat (intention) and no asana in yoga can pose any threat to the Muslim faith. "We adopt it as an art or science, not a religion or belief."

Yogi Haider clarifies that yoga does not have any religion. All the scholars of Pakistan are unanimous on this. Among those who attended his Yoga sessions are Maulana Tariq Jameel, a prominent preacher of Pakistan, and Ghulam Mustafa Khar, a well-known politician 

Explaining further for the dogmatic Muslims, Yogi Haider says that a person can pop a paracetamol tablet for his headache without questioning the religion of its manufacturers likewise Yoga is also a method of treatment and none should bother about its origins. 

"It has changed the lives of millions of people, some have got relief from joint pain and some from diabetes. It's irrelevant where it comes from. It is considered a healthy exercise. But it must be done with acceptance."

Explaining further, Yogi Haider debunks the myth about 'Surya Namaskar' is not Islamic enough to be practiced by Muslims. Even in India, many Muslims oppose it on a religious basis. "I think it is not a worship."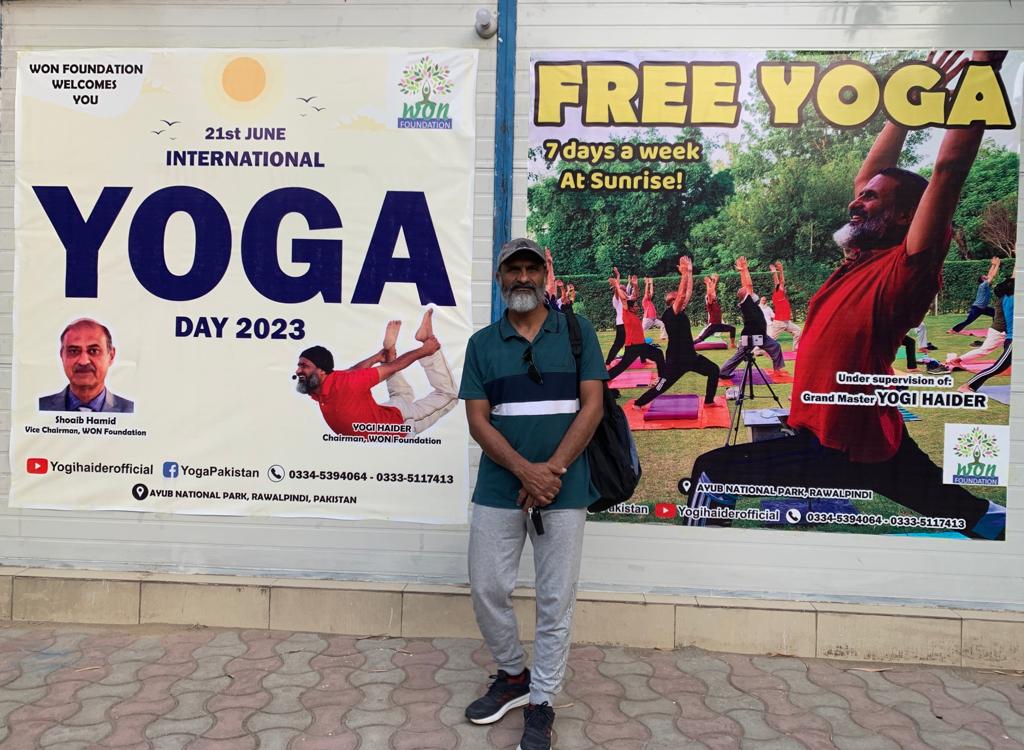 Yogi Haider standing in front of the campaign poster of his organisation

"Surya Namaskar can be a way of paying our respects to the Sun (as against the perceived idea of worship), says Yogi Haider. We should know that when the sun rises, the energy level of the earth is at its highest."

He advised people not to think of the pose of Namakars as a "Hindu way of salutation," but as part of a complete set of exercises, and a workout. This will establish our relationship with the Sun."

"When you do Surya Namaskar it does not mean that you are worshiping with closed eyes, actually we are working hard on our body. The moon has set. Morning rays are very useful for our body."

Yogi Haider says that there are 12 asanas in Surya Namaskar. It's a beautiful and powerful set of exercises that gives flexibility to the body and reduces stress. And is very beneficial."

Speaking with Awaz-The Voice, Yogi Haider said that there is a poem by Allama Iqbal on Surya Namaskar' he has also translated Gayatri Mantra into Urdu.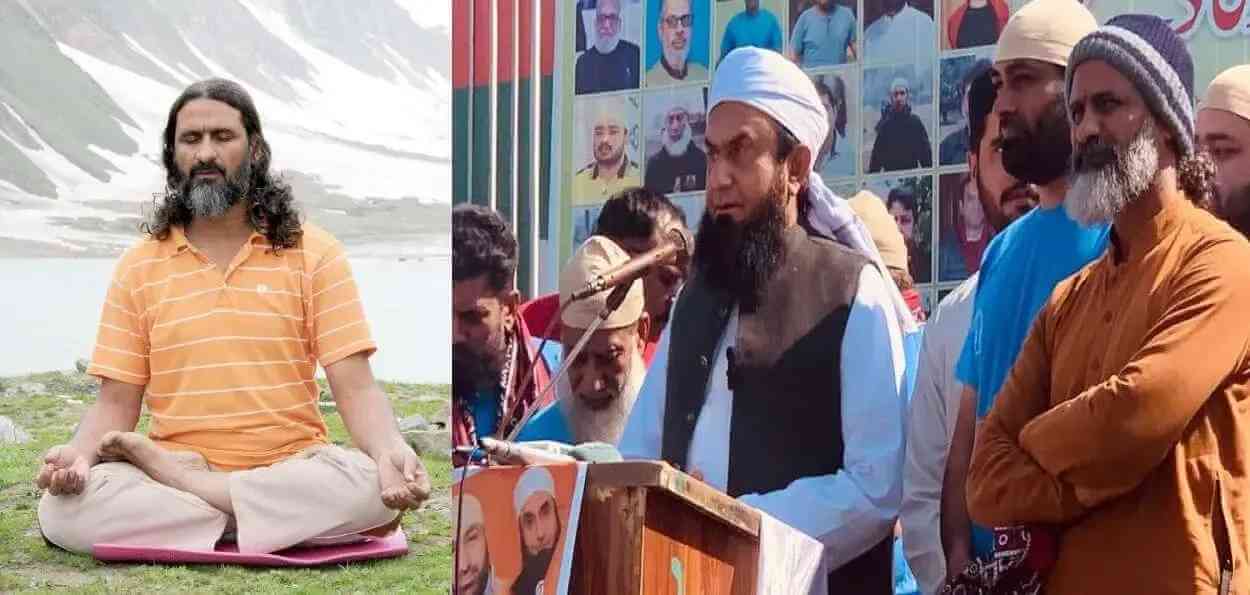 Islamic preacher Tariq Jameel with Yogi Haider

Yogi Haider said that the sun plays a very important role in keeping us healthy. People who stay at home and do not go out in the morning complaining of vitamin D deficiency. That's why we have to understand that the sun is a great source of energy, and health power for us. If you want to reach your destination, then you have to keep your body healthy, in which Sun plays an important role. Let me also tell you that our destination is the servant of Allah. You can greet the one who made it in Surya Namaskar, and thank him. There is no danger to religion and faith from this.

Yogi Haider says while he was living in Saudi Arabia, he developed pain due to appendicitis and doctors advised him to undergo surgery. "My mind was against surgery. I had read about yoga a few days ago, so I gave up the idea of surgery and managed to heal it with Yoga."

He said like he was cured, if one does Yoga regularly and with firm belief, one can get relief from all kinds of pain. Yes, today I am 53 years old but I do not take any kind of medicine. Now I am a yoga guru and my students are in their eighties and nineties and are living a fit life not because of medicine but yoga.

On his journey of Yoga, Yogi Haider said that after getting healthy in Saudi he continued to learn more about this. However, his search wasn't limited to books, he turned to India, Nepal, Burma, and China.

Yogi Haider considers Guru SN Goenka of Nashik, Maharashtra, as his Guru because he taught him meditation.

Along with him, Yogi Haider also visited several temples in Old Delhi, visited Haridwar, Muzaffarnagar, and Meerut. He said whenever he came to know about a Yoga Guru he would trace him and try to learn yoga from him.

Yogi Haider says that yoga has cured his back pain and the proposed surgery on his spine had been deferred indefinitely. Seeing the results, he says

 Yogi Haider says that in 2005 he decided to introduce yoga on a large scale in Pakistan, establishing Way of Nature, which is located in Ayub Park, Rawalpindi. Today there are some 50,000 practitioners of Yoga who attend his classes.

There are some 500 instructors imparting training in the sessions across cities. The sessions are held every morning in parks and open spaces. Yogi Haider has thus successfully turned Yoga into a movement.

Yogi Haider said, to begin with, he informed people about its history. He was told that "Tala Jogian" was the center of yoga in Punjab, Pakistan, which is also known as the birthplace of yoga. The religious leaders of this country chose this high place for worship.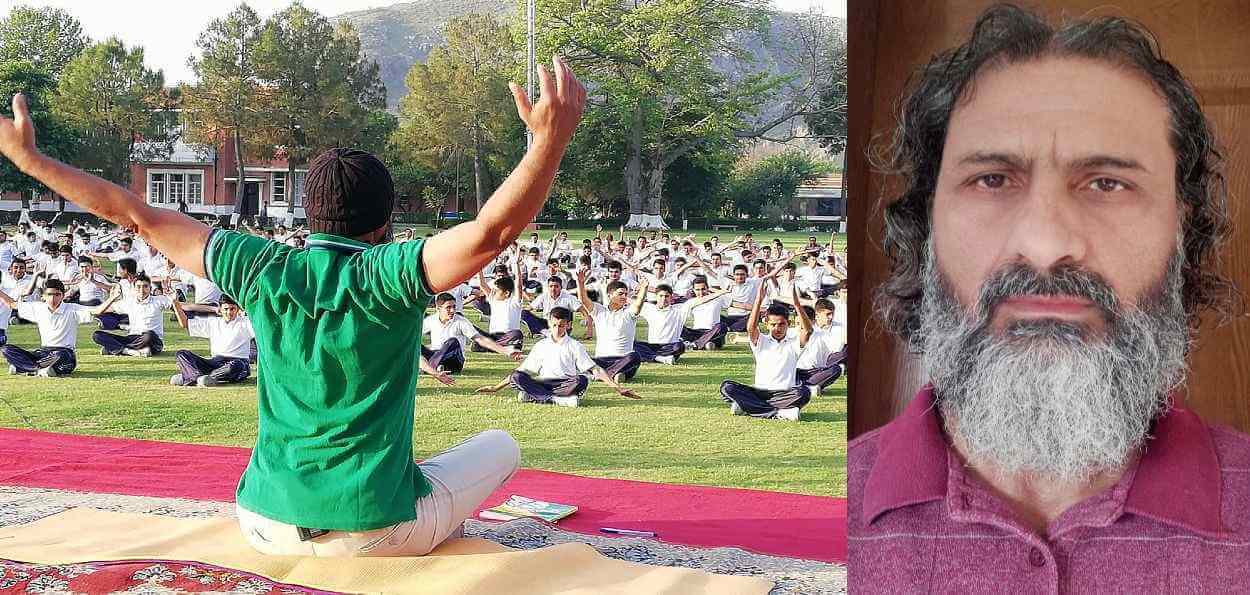 Yogi Haider teaching Yoga to school children



In the Punjabi language, the word Taal means a mound. With the addition of Jogis, it came to be known as Tala Jogi, which was a hill or place of worship for Jogis (ascetics). The place is some 35 km southwest of Jhelum.

It is a lofty and vast place that was preferred by the Jogis for themselves centuries ago and engaged in worship and penance there. He says that Abul Fazl in Ayyan Akbari has described Tala as an ancient temple of Hindus.

Yogi Haider says that later Guru Gorakhnath Tala Jogis came and his followers stayed at this place. Historians have written that Alexander the Great also came there after hearing about its mysteries. Guru Nanak also stayed there.

Traces of different periods are found in Tilhan Jogyan. Temples, Samadhyas, and caves where yogis reside can also be seen. There is also a Mughal-style pond here. It is said that it was built on the orders of King Akbar at the request of the Jogis.

Yogi Haider says Yoga is a great medium to connect people. Those who adopt it become strong human beings. When a person is healthy and strong, he does not pay attention to small things.

ALSO READ: Yoga gaining popularity in Saudi Arabia

On the frayed India-Pakistan relations, Yogi Haider says, "I believe that yoga is the best way to bring people closer. Through yoga we can make the whole world strong and healthy, human development is not a road and bridge but peace of mind. It's possible through yoga."