Read Time:
2 Minute, 57 Second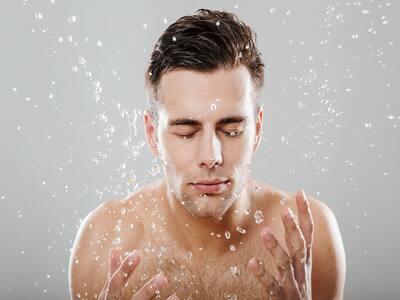 Blackheads are stubborn and annoying little buggers. But, do not worry, here is how you can get rid of them in five simple steps.
Blackheads are nasty and stubborn little buggers. If you live in a city, then you know what a pain they can be. So, what makes them so stubborn? Blackheads are formed when the pores in the skin gets clogged with dirt, dust, dead skin cells and oil. Just like our lungs, you need to let your skin breathe as well. When the pores get blocked, blackheads appear. It can be more frequent and stubborn for people with oily skin, people who live in really polluted places and people who do not exfoliate and cleanse their skin very often.
Also, another point to remember is that, these blackheads appear on your face because your face is the most exposed to pollutants, dirt and dust. If you do not regularly cleanse it, this is bound to happen. The pores around your nose and chin are larger than the rest of your face and it is oilier. This is why blackheads mostly appear on your nose or chin. But, do not worry. We have brought some solutions for you:
Get rid of blackheads in 5 simple steps:
Salicylic Acid
Salicylic acid of used with a face wash can work as a great exfoliator to get rid of blackheads. How does it work? Instead of scrubbing off dead skin cells, it works by dissolving them. It is a chemical exfoliator. However, make sure to use a small amount with your face wash.
Activated Charcoal
Charcoal is a well known exfoliating agent. It has the power to get rid of impurities and dirt from skin all the while maintain the skins natural oils. Use this and see how it works its magic.
Baking Soda
Here is an easy at-home method to get rid of blackheads and the answer is baking soda. How does it work? For people who do not know, baking soda has anti-fungal and anti-bacterial properties. These work against dead skin cells and maintains the pH balance as well. Moreover, it also helps remove excess oil and unclog pores. This is the most inexpensive way you can cleanse your face off the dirt, pollution, dead skin cells, etc.
Facial Serums
Facial serums help reinforce the skin's natural power of resistance. This way, our skin can battle with the impurities itself. Apply serums on your face before applying moisturisers or sunscreen. This is sort of a preventive method to avoid the formation of blackheads.
Exfoliate With A Scrub
Last but not the least, do not forget to exfoliate. Face scrubs are important because exfoliates helps get rid of dead skin cells, dirt and oil, all of which are the main reasons of blackheads. It will leave your skin smooth and supple. It is recommended to use facial exfoliates sparsely because too much scrubbing is also not good for your skin.
Total Wellness is now just a click away.
Follow us on
Don't Miss Out on the Latest Updates.
Subscribe to Our Newsletter Today!